Every business owner will at some point need to commission creative work such as copywriting, graphic design, or photography. For a smooth working relationship with your hired creative, and to get their very best work, you'll need to follow a few simple guidelines.
1. Develop a detailed creative brief.
When asking for any kind of creative work, you need to be very clear what you need and why.
First, ask yourself:
What do you hope to gain with this work?
Where do you plan to use it?
What is the expected call to action?
Who are you speaking to?
These are just some of the questions you'll need to answer. The more information you can share with a creative, the better we can serve you.
We love to see examples of what inspires you, but be prepared to explain what it is you like or dislike about them. Are you attracted to specific elements or is it the overall aesthetic? Again, more information leads to better results.
Terra Osterling, a freelance writer and RWN member, agrees. "When a client asks me to look at websites they like, I prefer they tell me exactly what they like—for example, tone (is it casual or formal?) or use of industry language. Without a clear reason to look at a competitor's website, as a writer I run the risk of absorbing too much. I want to write fresh for this client, and, of course, not accidentally plagiarize."
Also, be aware of your own personal bias. Purple may be your favorite color, but think about how that color may or may not connect with your audience. They are the ones you're trying to attract, so use colors that would appeal to them.
If you can provide this kind of detail when commissioning creative work, it should reduce the number of revisions and help the creative process move quickly and efficiently.
2. Provide constructive and useful feedback.
Once the creative delivers their first version of the work, the next step is the revisions process.
If your creative brief was clear, then this version should be pretty close to what you were looking for. Even so, expect there will most likely be some changes. We want you to walk away a satisfied client, so we are open to your feedback.
Here's how to provide feedback for a smooth revision process:
If something is not feeling right but you cannot express why, please share your concerns with us. Be nice, but honest. Maybe you feel that the colors aren't bright enough. Instead of suggesting a new color palette, let us review the problem and offer alternate colors. You may think you're helping, but you might be choosing colors that don't work well together, where a graphic designer understands color theory and can offer solutions that are still cohesive.
Please avoid vague directions. We have a tough time with "Make it pop!" or "Jazz it up!" These statements don't tell us anything. Instead, try: "Can you make the headline stand out more?" "Can you use brighter colors?" "Can the text be more conversational?"
Ask plenty of questions about why we made certain decisions. If you don't understand a word choice or design detail, please ask us. We can walk you through how we came to that decision. Remember, this is our expertise, which is why you hired us! For example, a specific shade of blue may be chosen because it's known to appeal to your target audience.
If many different people will be reviewing and providing feedback, please avoid committee responses. Don't forward an email thread where every person involved throws their 2¢ in. Choose a point person to deal directly with the creative, and that person will be the ONLY person to send revisions. They will gather the collective feedback and translate it into one set of revisions.
Agree on the method for feedback. The creative probably directed you to provide feedback in a specific way, which may bea questionnaire or some other process. If you have technical problems with using the method, we will work with you to find an alternate method. Just ask us.
Terra shares her preferred process: "I love when clients agree to use Tracked Changes in Word or Suggesting Mode in Google Docs, and the commenting feature in both. It's an efficient means of editing, and documents in one place our changes and any dialogue we may have along the way."
3. Mutual respect.
The final and probably the most important tip is to have mutual respect for each other. You're undeniably the expert in your business, but the creative is the expert in theirs. When you value our time and effort, you allow us the space to do our best work. Together, we can be an unstoppable team.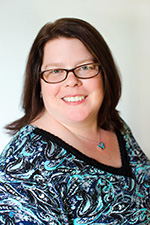 Melanie Watson is a visual brand designer specializing in small businesses and solopreneurs. She collaborates with you to bring your visual brand identity from concepts to reality while helping you to achieve a consistent look and feel across all your channels of communication. She also helps to provide clarity to your branding through one-on-one consulting. Melanie is an RWN member, a Marketing Committee member, the Sales & Marketing SIG co-chair, and a Geek Squad member.
Melanie Watson, Melanie Watson Design
www.melaniewatsondesign.com
https://www.instagram.com/melaniewatsondesign
https://www.facebook.com/melaniewatsondesign