Yep, you heard that right: I'm a big proponent of the non-New Year's resolution. Let's face it, setting any goal according to someone else's timetable is never a formula for success. As a literary editor, I've seen lots of authors set their goal of finishing a novel around an event called National Novel Writing Month—similar to the New Year's resolution idea, but with the intent of writing a full novel within one month.
This doesn't work out well for most writers, because they're focused more on an arbitrary timetable than on creating a sustainable plan to create quality work and continue those good habits.
No matter what your long-term goal is, here are five tips to inspire you to get moving, keep up your motivation, allay those nagging fears that can derail us, and do it all sustainably so you accomplish this goal and any other you go after.
Set your own timetable . . . and stick to it. It makes sense to figure out a reasonable amount of time to complete your goal. But I urge you to also take into account the time of year best suited to your work. For instance, National Novel Writing Month is in November: right before the holidays. New Year's is, of course, right after the holidays.
When's the last holiday season you had when the timeframes right before and after were calm and compatible with setting a sustainable schedule to achieve a brand-new goal? Maybe the summer is quiet for you, or when the kids go back to school. Choose your best time, schedule your work, and then, barring emergencies, lock yourself into it.
When it's time to work, don't think or talk about it—just jump in. Once you've set that work schedule, don't let yourself rationalize your way out of it. This might sound familiar: "Maybe I can put this off until Friday." Or, maybe you like talking about your goal (writers are infamous for doing this—they can spend hours in social media groups talking about their idea, and little time putting it in novel form). Or, maybe you've decided the schedule you set really isn't the best for you, so today you're going to just spend some time revising it. In other words, you're procrastinating.
Beware: talking or even thinking about our goals can actually make us feel that same burst of satisfaction as if we'd done our work for the day. Don't fall into that trap!
Remember your finish line. Inevitably, your excitement for whatever project you've taken on will wane. The day-to-day work of it will feel tedious. But if you don't do the little, sometimes obnoxious tasks, you're never going to realize the big change you want in your life.
Ask yourself: Do you really want to remain in the same place you're in now? Where do you want to be? What does your finish line look like? Reminding yourself of that will help you push through.
Be brave—be a trailblazer. I recently heard about a woman who'd self-published a graphic novel and shopped it around town to local bookshops. One shop told her they didn't sell graphic novels. The author politely thanked the owner for his time and was ready to leave. But, the owner was also so impressed by the author's guts and respect that he bought 20 copies—the first graphic novel sold at that shop.
There may be a point, either when you start toward your goal or along the way, when you get scared. Maybe this is something you've never attempted. Maybe no one has. But what's the worst that could happen? Often the more we avoid something, the scarier it can seem than if we just jump in and do it. Lead with idealism—ask yourself, what's the best that can happen?
Ask for help. It's hard to admit we don't know it all, particularly when we're taught that everyone else has all their ducks in a row before attempting a venture. But of course no one knows everything, and most people are just people: people who have also had to ask for help, people who also don't know it all.
And most people are happy to help when they can. Frankly, if you come across someone who scoffs at you simply because you asked for help, there's something wrong with them, not you.
Without a supportive community, long-term goals can be virtually impossible to achieve. Along these lines, I recently published my own novel, and boy did I have to depend on people for help. With that, I'm going to make a shameless plug here, not for my book, but for Rochester Women's Network. I don't just mean being a member of RWN; I mean being an active member. Get involved, get to know the people in your community. Just like with your work itself, jump in.
Good luck, and Happy New Year to you . . . whenever yours is.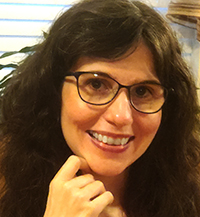 Clarissa J. Markiewicz is a novelist who hails from Western New York. After earning her degree in English lit and working in print media, she became a freelance literary editor of more than 200 titles. Her shorter fiction, nonfiction, and award-winning poetry has appeared in U.S. News & World Report, The Buffalo News, and Art Times, and has been commended by Scholastic and Rolling Stone. She is a member of the National Writers Union, is currently chair of Rochester Women's Network's Marketing Committee, and is a member of the RWN Geek Squad SIG.
www.clarissajeanne.com
facebook.com/CJMarkiewicz
twitter.com/ClarissaJeanneM
instagram.com/1clarissa_jeanne