Creating multiple streams of income may not be the first thing on your entrepreneurial list, especially if you're starting out. Am I right?
However, the best way to create a sustainable and stress-free business is by diversifying our offerings.
Why do you think people diversify their investment portfolios?
If you said to minimize risk and balance reward, you'd be right. Spreading around their assets ensures that they are not dependent on any one thing, allowing long-range income goals to be accomplished more safely and easily.
Let's look at that concept through the entrepreneurial lens!
Here are 9 multiple streams of income that you can consider to maximize profits, minimize risk, and meet your financial goals:
One-on-One Coaching
You don't have to be a business coach to offer personalized coaching sessions. Are you an expert at helping authors pen their first novel or a pro when it comes to fostering meaningful relationships? There's an audience waiting to be guided from point A (where they are) to point B (where they desire to go). Facilitating private coaching sessions is the perfect way to provide customized mentorship rooted in your expertise.
Group Coaching/Masterminds
Group coaching and masterminds not only maximizes your precious time but also reaches more people in the process and leverages the "tribe" element as well. There is power in facilitating a group of people with the same problems all working towards effective solutions.
Workshops/Masterclasses
Workshops and masterclasses allow you to offer your services in a faster period of time, typically at a lower investment. Having a consistent schedule that your audience can rely on works best. For example, you can commit to offering an hour masterclass a month or a 1-day workshop per quarter. Setting these goals will help you stay accountable and give your fans something to look forward to.
Online Courses
According to eLearning market analysis, trends and forecast, "The Global eLearning Market Will Reach $325 Billion By 2025." Don't you want a piece of that?

Creating online courses allows you to increase your impact worldwide and reap the benefits from your efforts for years. They are my personal favorite because there are no time or location limits.

It's pretty amazing to think that if you create a digital asset and sell it for $497, that by enrolling just 10 new students per month, could add $59,640 to your bottom line annually. Now that's interesting!

Membership Program
Membership programs are rising like wildfire, and for good reason! Everyone knows that it's easier (and less expensive) to maintain a customer than it is to acquire a new one. Memberships take advantage of this by offering online content or shippable goods every month. This provides a reliable source of income, which helps when it comes to budgeting.
Retreats
Have you ever been to a killer event and thought, I want to do something like this? Retreats are an excellent way to expand your content, show off your personality, offer team-building exercises, and leave space for deep self-reflection to assimilate the new information.
Guest Expert/Professional Speaking
Businesses are always looking for a guest expert to highlight in a program, hire for a corporate event, or even to collaborate with. o separate yourself from the pack and guarantee more gigs, make sure to illustrate your differentiation factors:

Why you?
How are you different?
What do you bring to the table that's unique and promotion-worthy?

Affiliate Income
Do you have a favorite product or service that you're over the moon about? Most larger companies have a referral program set up where you get a kickback for recommending their business. Some programs give over 50% of the earnings, so it's no small potatoes! Others provide a $20 Amazon gift card to both you and your friend.
Rentals
When you're in the business-building stages, it helps to look outside your business for additional revenue streams. For the first few years of my coaching business, I was also an Airbnb host. By using one of my "non-business" assets, I was able to bring in a source of income that kept everything humming as I grew my brand.
This is by no means an exhaustive list, which is exciting because creating income opportunities has no limits!
You have the power to build your business around your life. Cultivating both on and offline multiple streams of income will help secure your success!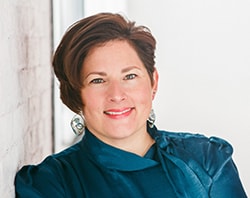 Kc Rossi is a Business Coach that helps entrepreneurs create online courses to make a bigger impact and earn more money. She has over 29 years of entrepreneurial experience, ranging from gourmet food manufacturing to aromatherapy to business coaching. Through heart-centered strategies, she helps people in holistic fields use their integrity and intuition to become more visible in a way that feels comfortable so they can help more people, work fewer hours and live abundantly. Kc is a friendly ally who has the ability to intuitively align entrepreneurs with their highest potential, lifting the veil that hinders their progress and success. Kc has been an RWN member since November 2018. She has so far experienced the Leadership SIG, presented at the Sales & Marketing SIG, exhibited at the Spring Symposium, and enjoyed the W Awards Gala.
As Seen In: ABC, NBC, CBS, FOX, Thrive Global, International Journal of Professional Holistic Aromatherapists, Alliance of International Aromatherapists, Choose Courage, Rebelpreneurs, Influencer Profits, and Buzzsprout.
Find Kc:
Facebook: https://www.facebook.com/KcRossiInc/
Instagram: https://www.instagram.com/my.coach.kc/
Pinterest: https://www.pinterest.com/mycoachkc/pins/
LinkedIn: https://www.linkedin.com/in/kc-rossi-10341b50/
Podcast: https://itunes.apple.com/us/podcast/women-developing-brilliance/id1409856589
Blog: https://www.kcrossi.com/blog
For free resources and more information, visit: https://www.kcrossi.com/