When Rochester Women's Network developed a new vision statement last year, we were intentional about making a commitment to support and promote diversity and inclusion in all that we do. At the beginning of 2020, we launched our Diversity and Inclusion Committee to guide our work of being better allies through all of our committees, SIGs, and events.
Who needs an ally?
However, simply having the words in our vision statement and a committee by-name doesn't miraculously make us experts on how to be better allies for BIPOC (Black, Indigenous, People of Color) communities, people with disabilities, LGBTQ+ (lesbian, gay, bisexual, transgender, queer, and other) communities, and others who do not live with mainstream privilege. We need to recognize and unlearn our ingrained biases, mindfully applying ourselves to this effort with the understanding that it is an ongoing process.
What is allyship?
So, how do we start applying ourselves? For me, allyship begins with learning more about the experiences of those who have been historically suppressed, as well as doing the internal work on how my own internal unconscious biases might show up or have shown up. It is hard to be an ally if you aren't aware of the different struggles individuals and communities face.
For example, to understand how and why systemic racism works, it's important to realize and accept that we are all socialized to exist within a system that overwhelmingly favors white people — economically, socially, and politically.
How can you start being an ally?
After you understand different struggles and biases, and understand what kind of privilege has guided your life, you can use your voice and your privilege to speak out against oppressive systems and people. It is about being willing to sit with topics that are uncomfortable and have often been seen as taboo.
You don't need to be all-knowing, but you must be open, stay curious, and be ready to bring change through the knowledge that you acquire.
Thanks for showing up!
Are you ready to help bring about real change? Then welcome to "Active Allyship." Consider this series your introduction to being a better ally, helping you learn how to show up in big and small ways in every part of your life.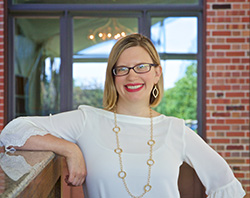 Sarah Marché, MBA, is the Vice President of Leadership Logic. In this capacity, she works with leaders and businesses across New York State. Sarah believes that the key to performance results is twofold; a clear vision that is understood by all and engagement with one's workforce. Sarah lives by the belief that people are the greatest asset that any company can have and that when businesses utilize strategy, engagement, and clarity, the sky is the limit. She has coached owners, managers and emerging talent, developed and deployed strategic plans, established succession plans, and championed initiatives, all while helping leaders achieve their vision and results.
Sarah is an RWN member, a Board member, a member of the Diversity and Inclusion and Special Events Committees, the Referral SIG 2 chair, and a member of Wine SIG 2.