When it comes to social media for our business, we often feel the need to be seen on every social media platform!
I will let you in on a little secret; your business does not need to be on every platform on social media to be successful.
*Note, be sure to follow the embedded links for helpful tools!
Do Your Research
The most valuable thing you could do is determine who you are trying to reach and what social platforms they are using. Also, it is beneficial to look at your Google Analytics and see which social media platforms people are using most to get to your website.
Once you have done your research on your target audience and determined where your target audience is hanging out on social, pick one or two platforms and give it all you got to make those successful. Deactivate the rest.
The 3 C's for Social Success
Then follow these three C's to amp up your presence on social media:
Content.
The content you produce for social media should address your audience's pain points and have a specific objective that can be tracked and measured. When promoting your product or service, you should always ask yourself, does this solve my audience's problem?
You also want to remember to add a call to action to your social media posts. It is not always necessary, but you want your audience to take some action. Encourage your audience to interact with you!
Creativity.
Be creative and show off the human side of your brand. Your audience is looking for authenticity, so share some information about your staff, the community work you are doing, or fun celebrations.
Consistency.
Last but not least, the best thing you can do to create consistency in posting is to create an editorial content calendar. Set aside some time once a week to produce content for social media, and then you will feel like you are ahead of the game. My rule of thumb is to post at 3x a week.
Automate!
Once you have content to post from your editorial content calendar, you might want to consider finding a social media automation tool. And there are plenty of automation tool options out there.
A social media automation tool will help you organize, manage, and schedule your social media content out weeks in advance.
Put all these tips into play, and you feel more confident, and get better results, from your social media presence.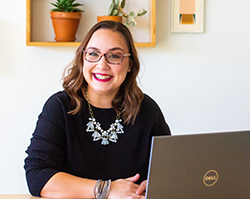 Bryn Virkler owns Bryn Virkler Communications, which provides marketing services to heart-centered organizations to help maximize their impact through marketing, social media management, project management, event planning, and more. Bryn has been an RWN member since September of 2020 and serves as a co-chair on the Rochester Women's Refer SIG 1.
Website: www.brynvirkler.com
Facebook: https://www.facebook.com/brynvirklercomm/
Instagram: https://www.instagram.com/brynvirklercomm/