Do you ever wonder if the time you spend on your blog or social media accounts is really worth it? Have you ever wished that you had a more tangible way to measure these efforts? Do you want to set yourself up to work more efficiently in the year ahead?
If you answered "yes" to any of these questions, this post is for you!
A Data Case Study
I recently worked with fellow RWN member and founder of Life Made Simple Professional Organizing Tricia TenEyck to create a strategic plan to help with her website and social media presence for the upcoming year. Like many women solopreneurs, Tricia wanted to make sure she was being found on Google for relevant keywords. She also knew that she needed to up her social media game to find new clients and stay in touch with past ones. While she knew that she needed to do something, she wanted guidance to make sure she was spending time on the areas that would have the most impact on her business.
If you're like Tricia and you'd like to start refining your efforts to get the most "bang for your buck" (in terms of your time), I recommend taking a look at how you can use data to improve your marketing efforts in the year ahead.
Using Metrics
Here are three areas where metrics can help you improve and refine your marketing efforts:
Social Media Data — This can typically be pulled directly from each platform, but you may also be able to pull data from a social media scheduling tool, if you use one.

How many followers have you gained in the past year on each platform? Are they performing equally?
What days of the week and times of day does your content perform the best?
Are certain types of content getting more engagement?

Google Analytics — If you don't have access to your own Google Analytics account, you should reach out to your website admin to grant you access. YouTube is a great place to start if you don't know your way around your analytics account.

How many new and returning users have come to your website in the past year? What about the prior year?
How many pages are people visiting and how much time are they spending on your website?
Where is most of your website traffic coming from?

SEO Report — The most robust data in this area comes from paid tools, but you can also start with a free tool (with limitations) like UberSuggest.com.

What are the top search terms that lead people to your website?
What keywords do you WANT to lead people to you that aren't currently doing so?
Who are your top competitors from a keyword and website standpoint?
Making Decisions
By examining these data points, you can tease out some helpful takeaways to inform your marketing efforts in the year ahead. Maybe you can ditch a specific social channel because it hasn't performed well, leaving you more time to focus your attention on the platform(s) that really impacts your business. Perhaps you thought your name was appearing prominently for a top search term in your industry and find out you actually don't show up until page 3 of the search results. Guess it's time to start creating content on that topic so you can rise in the ranks for those results!
This is just scratching the surface of how you can use data to inform marketing efforts for your small business. The point is to get you thinking about how to work more efficiently and maximize your time and energy. Because who doesn't want that?!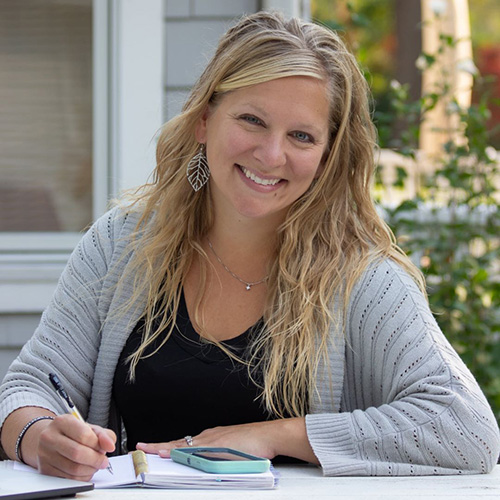 Kristi Mitchell has a passion for helping women succeed in their businesses. With over 10 years of marketing experience, an MBA in Quality and Organizational Improvement and her own entrepreneurial ventures, Kristi has a knack for problem-solving and leaving everything better than how she found it.