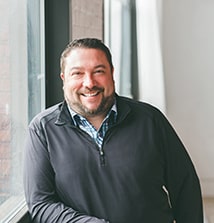 Kevin is a dedicated, hardworking sales professional. With years of experience marketing a wide variety of products and services, Kevin has molded his personal approach to the sales process. Currently, he is a sales representative with The Notable Corporation where he focuses on matching clients with products that meet their needs for specific events and projects with new, fun and trendy ideas. With a youthful energy to his sales approach, Kevin successfully builds his client base and fosters long term relationships. Kevin is excited for the opportunity to use this skill set to expand RWN's reach in the Rochester area. A proponent for all women, Kevin is excited to grow RWN to become the voice in Rochester for all women!
Kevin lives with his better half Jennifer, children and the coolest dog, Poncho, in Irondequoit. When he is not researching what the next great giveaway item is under $1.00, Kevin is the MVP and co-captain of a local kickball team, shedding tears during Buffalo Bills games and attempting to golf.
Kevin is an active participant in the Referral SIG.